Full-Service Contractors: New Roof and Roof Replacement in Sarasota & Manatee
As a family-owned and operated roofing contractor company, Southeast Roofing Consultants, we have the skills and ability to offer a variety of roofing services. We can service any type of roofing materials, including asphalt shingles, tile roofing, metal roofing, and flat roofing, and we are a GAF Master-Elite Contractor—an achievement less than 3% of roofing companies have earned. Our team stays current on GAF certification programs to stay in compliance with the organization's stringent regulations.
We have a proven track record across our 50+ years of installing, repairing and reroofing Sarasota area homes and businesses. Clients can count on us for honest, straightforward commercial and residential roofing projects. As a credible company, we are licensed, insured and accredited and have completed over 20,000 roofing projects in the region.
Our teamwill provide you with a free written estimate that includes labor costs. Due to our unparalleled workmanship, materials and professionalism, we can help beautify and protect your home or commercial property. We are committed to making sure your property is visually striking for maximum curb appeal. Thanks to our extensive roofing material selection, a durable and elegant solution is absolutely achievable for every customer. When you need a roof replacement in Sarasota or Manatee, reach out to us.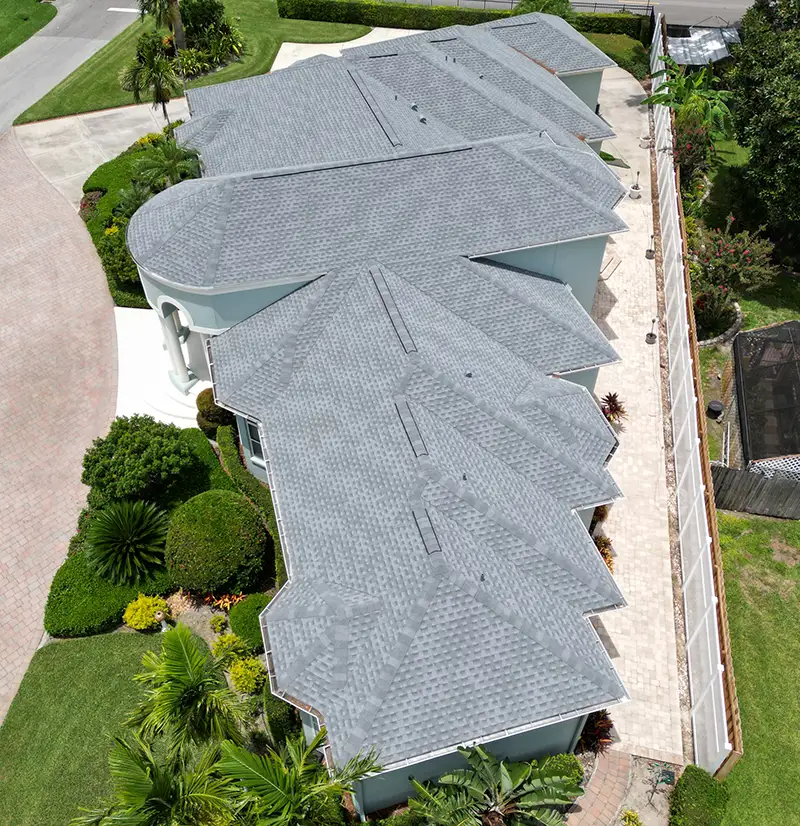 Roof Replacement Cost Sarasota, FL Quote
ALL ESTIMATES ARE FREE, NO MATTER WHAT!
Sarasota Roof Installation Experts: Your Solution for A New Roof
Have Roofing Leaks or Detect Mold or Mildew?
Leaks in the roof can be due to age, subpar materials or a lack of roof maintenance. Unless you want to face potential structural damage or flooding of flooring and possessions, getting repairs or a roof replacement in Sarasota and Manatee fast is essential. Water damage tends to lead to mildew and mold, which can be challenging to eradicate and costly to resolve. At Southeast Roofing Consultants, we provide timely service and guarantee our work and materials, so you can feel confident in your roofing system.
Don't Want To Be Caught Off Guard With Unreliable Roofing Contractors?
There are not many things worse than taking time off work or other responsibilities to wait for a contractor who doesn't show up on time or at all. Delayed services can result in further damage, and we are committed to quality assurance and follow-up with customers post-repairs and installation to ensure 100% satisfaction. Professionalism means everything to us, which is just one reason we have an average 4.9 star reviews on Google and zero complaints from the Better Business Bureau. It's important to choose a reputable roofing contractor for roof replacement in Sarasota.
Have a Complex Roof Architecture?
Many companies simply don't have the experience or credentials to handle unique and unusual roofing systems, which can result in less than stellar results. They might try to overcharge you or raise prices halfway through the job, but we have transparent pricing and offer complimentary written quotes that we stand by and back with robust warranties and residential and commercial guarantees.
Storm Damage Woes
Here in Florida, we are no strangers to storm damage due to high winds, hurricanes and other weather common in the coastal region. To prevent interiors getting soaked, we work with you with regular communication to keep you in the loop. We also assist with financing for qualified buyers!
Don't Deal With On-site Mess or Subpar Materials
Many contractors will try to cut corners by using subpar materials to save on their bottom line expenses. However, we take pride in using the highest quality materials from highly acclaimed roofing manufacturers. Our work quality surpasses others, because we offer consistent results backed by a solid warranty, and our teams clean up any residual materials mess daily during service.
Enhance Your Home's Curb Appeal with a Stylish New Roof
Looking to give your home a fresh, new look? A roof isn't just a protective cover – it's a key element in your home's overall aesthetic. At Southeast Roofing Consultants, we understand that sometimes the goal is to simply beautify your home and enhance its curb appeal. Whether you're envisioning a modern, sleek design or a classic, timeless look, our wide selection of roofing materials and styles can help you achieve the perfect aesthetic for your home. Our expert team will work with you to choose the right materials and colors that complement your home's architecture and your personal style. Transform your home's appearance with a new roof that not only protects but also impresses. We pride ourselves on roof replacement in Sarasota that are both beautiful and that protect your home.
The Difference: Southeast Roofing Consultants for Roof Replacement in Sarasota & Manatee
One of our mottos is that everyone who contacts us deserves a fair, honest quote and quality materials backed by superb customer service before, during, and after the project is completed. As a highly reputable, long-standing Sarasota roofing contractor, we are Florida building code compliant, Miami-Dade approved, and offer hurricane-rated roofing products. As a certified roofing contractor, you can rely on us for your roofing replacement needs. A few promises we commit to as a top Sarasota roofing contractor include:
Beautifying your property to increase value.
Timely repairs and roof replacement in Sarasota and Manatee that protect your property from the elements.
Transparent pricing with a written quote from our Sarasota roofing company.
There are various styles, materials, and colors to choose from to complement the business or homeowners exteriors.
Time-efficient roofers who arrive as scheduled and deliver a finished product within your budget.
Professional maintenance and maintenance extends the lifespan of roofing and can reduce energy bills.
Regardless of whether it's a roof leak due to age or a complete full replacement due to severe storm damage, our roofers adhere to permitting regulations and safety standards.
Labor and materials are guaranteed and warrantied even against manufacturing defects.
ALL ESTIMATES ARE FREE, NO MATTER WHAT!
New Roof & Roof Replacement in Sarasota and Manatee County Services
Sarasota weather can be unpredictable, so anyone with storm damage or leaks will want the best in the roofing industry. At Southeast Roofing Consultants, we offer installation of new roofs quickly and even have a few perks thrown in that many other companies charge extra for.
We remove the existing roof and remove debris daily. With an eye on details, we provide secondary waterproofing coatings, painted roof-matching vents and a free squirrel cover. Another benefit for clients is the vast selection of materials we offer from the best manufacturers in the roofing industry.
Roof Replacement for Asphalt Shingle Roof Systems
After a roof inspection, you may choose to go with a traditional asphalt shingle roof, and we mostly work with the GAF brand to ensure the best quality that lasts for years. There are numerous colors to choose from to complement the property's exteriors and add beauty.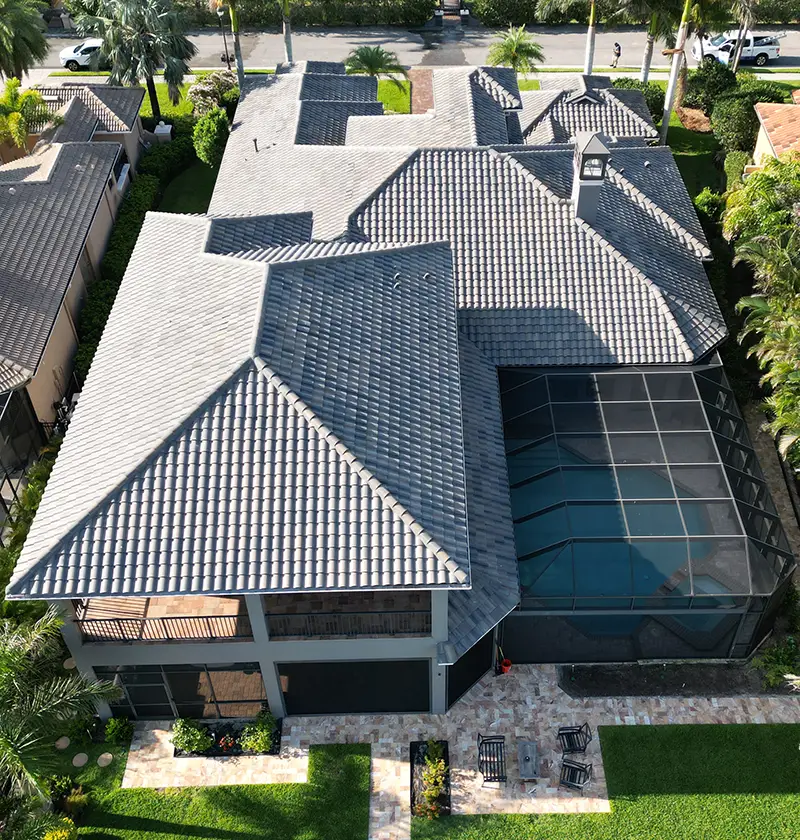 Tile Roof Repair and Replacement
One of the most popular options in our coastal region is energy-efficient tile roofing, which is available in concrete, clay and slate. We install every manufacturer option available in the Florida market, such as Eagle, Crown and Westlake Royal.
New Metal Roof Installation: Metal, Tin, Copper & Sheet Metal
Sarasota and Manatee Counties can see quite a few powerful storms and high winds, and metal roofing is an ideal choice for many businesses and homeowners. They can withstand greater storm effects with a much higher impact rating, and can last for 50 years or longer with a much higher UV resistance.
Flat Modified Bitumen and TPO Waterproof Membranes & Coating
While both of these products are optimal for both low and steep-slope applications, they do differ somewhat. TPO is amazing for resisting damage and fading from UV rays. However, modified bitumen from a manufacturer like Polyglass or GAF are better for high-traffic roofs, such as those used for sunning or gardening.
What Does A Roof Replacement Cost in Sarasota & Manatee?
The cost of roofing replacement or a new installation will depend highly on the materials you choose and the size of the property. On average, new asphalt shingle installation can range between $6,500for a 1000 square-foot roof up to $18,000 for a 3000 square-foot roof. New metal roofing tends to cost an average of $9,150–$27,000. Tile roofs typically cost an average of$10,000 – $30,000. We'll go into some average costs of materials per square foot including installation.
Cost Averages of Different Roofing Materials By Square Foot
Basic asphalt shingles average around $5 per square foot, while premium or architectural asphalt options average $6-$9 per square foot.
Tile roofing prices are highly dependent on materials and can be a bit more costly, but they are a wise investment. Clay, concrete and slate tiles average between $10-$25 per square foot.
Metal roofing and flat roofing material options are more affordable with corrugated metal, rubber, PVC, etc. ranging between $5.50 and $13.50 per square foot. Standing seam metal panels ranging pricing between $10-$17.
Transparent, No-Cost Written Estimates
Contact Southeast Consultants for Your Roofing Needs
Need repairs or roof replacement in Sarasota or Manatee? Resident and business owner, reach out to our team at Southeast Roofing Consultants who have years of experience and a perfect rating from the Better Business Bureau for a free written estimate today. Our teams actively serve Sarasota and Manatee Counties, Bradenton, North Sarasota, South Sarasota, Lakewood Ranch, Siesta Key, Longboat Key, Venice, Nokomis, and the surrounding areas. We also offer full financing through a number of financial backers.
FAQs on Roof Replacement in Sarasota & Manatee Counties
Replacing a roof is a major investment, so it's only natural to have a few questions. We'll try to answer a few of the most common questions a property owner may have.